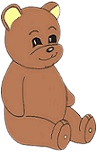 Proudly serving families and children since 1972.
We, a family owned and operated business, have been serving Northern Virginia families since 1972. Just as the memory of your favorite Teddy Bear elicits feelings of warmth and security, the staff at each Teddy Bear Day Care and Preschool is busy creating the same atmosphere of love and security for your child. At Teddy Bear Day Care and Preschool, we recognize and respect that each child is different and unique. Your child has their own special gifts and developmental continuum. Our seasoned and diverse caregivers and teachers endeavor to provide HighScopes active participatory learning experiences framework throughout the year to enhance the growth end development of your child. The HighScope curriculum is a high quality developmentally based program founded on the philosophy of "active participatory learning" , in which children and staff are engaged, interactive partners in the learning process.
We understand children's brains are developing at a rapid pace. By three years old their brain is 80-85% developed. Between the ages two and five years old children learn 95% of what they will need throughout their lifetime. They will be learning the names of thousands of objects while navigating the complexities of social interactions, making decisions, learning skills in problem solving, beginning math, and with persistence developing their own hypothesis through critical thinking.